Mountain Milonga - Aug 3-5, 2018
Frequently Asked Questions about Mountain Milonga Retreat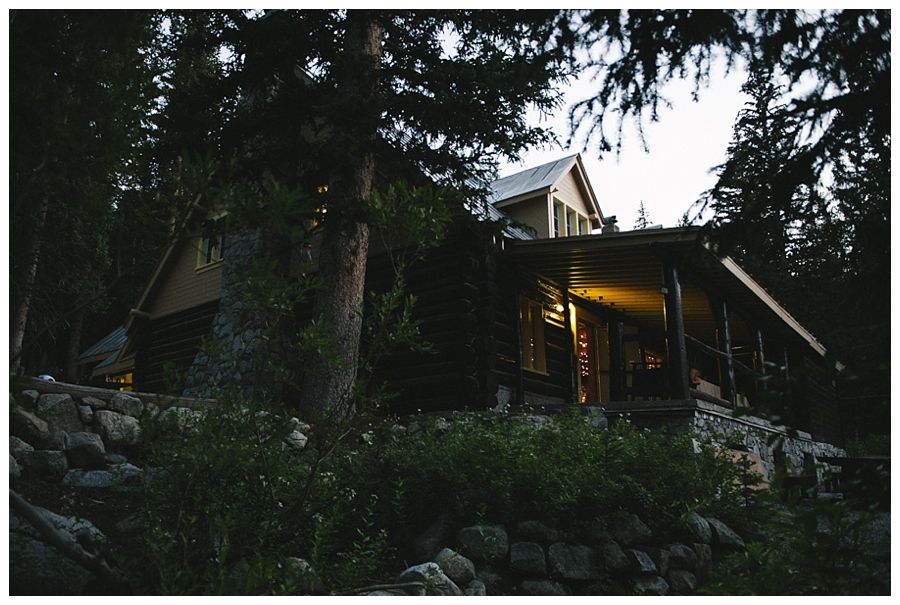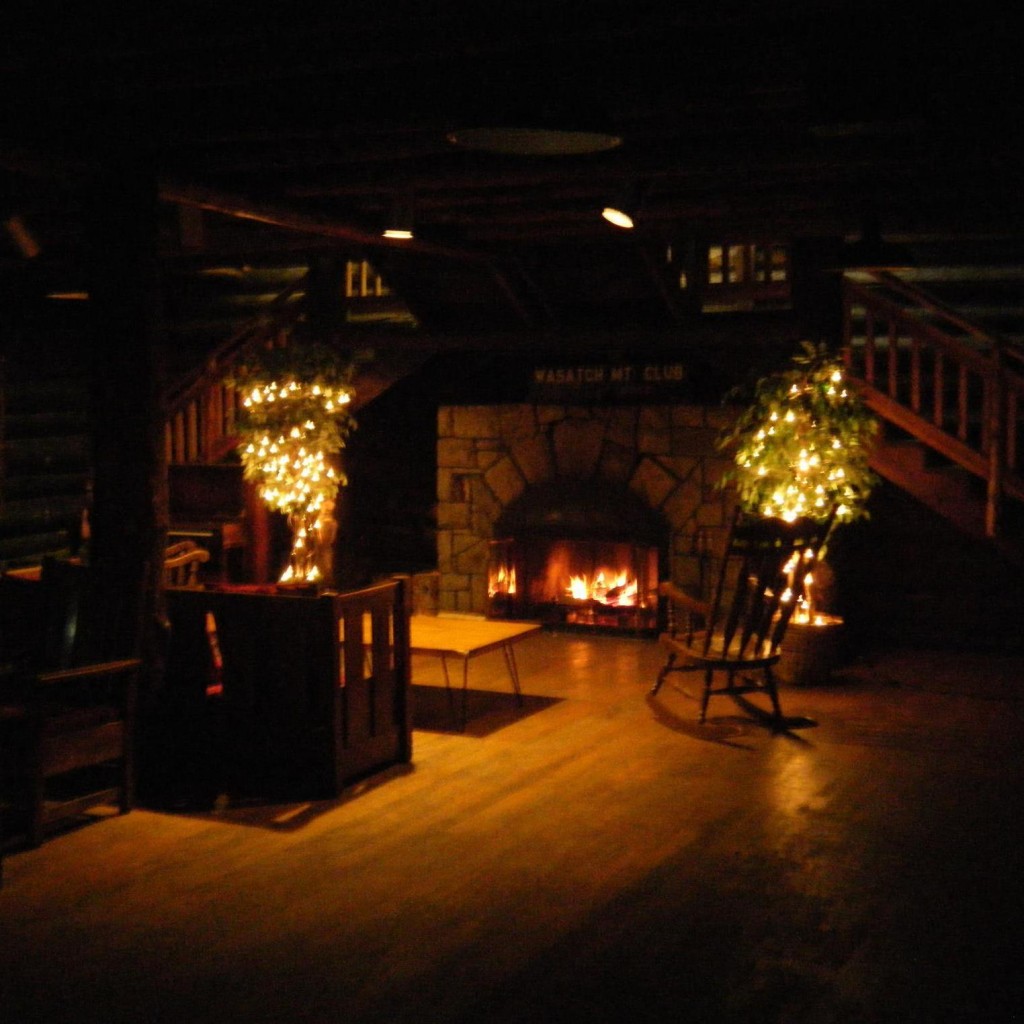 The space:
The main 1800 sq ft hardwood-floor ballroom is located on the ground floor of the historic 1929 Wasatch Mountain Club Lodge -
8465 S. Mary Lake Lane, Brighton, UT 84121
(
An archive picture of the Lodge's early years
) Large kitchen with two stoves and a microwave, two refrigerators, and snack-and-drink table is attached to the Ballroom. The main dining spaces are the brookside patio and the covered porch outside. Check the
floor plan of the main level
for dimensions.
"Bunk in":
The (very spartan) living quarters with bunks (
mattresses and covers only
) are located upstairs, and restrooms and showers, downstairs. Each room has 8 single-person cots and one two-person bed. We have a 10 am checkout on Monday, and we don't even have to clean up - it means lots more dancing on Sunday night, good sleep, and less stress for the volunteers (but understandably the passes have become more expensive...)
Tango Dorms social hall
Tango Dorms:
We secured a block of 4-bed, two-level bunk rooms at the Brighton Lodge, just 3 minutes down the trail. 3 nights, Fri-Mon. For the season 2018, two of these rooms have been remodeled, and turned into private queen-bed rooms (that's 14 beds total in the dorm block). The BL has ample parking, round-the-clock jacuzzi, and breakfast / coffee / microwave. The dorms have 4 showers and a common area (Social Hall) with chairs and tables. It is the least expensive off-site option.
Tango Chalets:
The beds (in private rooms, shared rooms, and bunks) are available in fancy ski houses located near Brighton Circle in 5-15 minute walk from the venue. "Great Western Chalet" is very close to the venue, a modern 4 BR + Loft, 3 BA mansion. "Music House" is tucked a bit further away in the woods, it's a rustic and secluded ski cottage with 3 bedrooms and one BA and ample parking. "Brighton Escape", a 4 BR - 2 BA chalet, is very close to "Music House" (their back yards face one another) but it is facing the road rather than hidden in the woods. It has a hot tub which residents of both properties may use, and is full of amenities.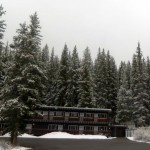 Guest parking and
the Brighton Lodge
Parking:
Official guest parking is across the lot from the Brighton Resort Lodge (blue on the schema) (
google map link
... just search for "Parking for Wasatch Mountain Lodge" on your map/GPS app), a short walk through the pines. There is limited parking near the venue, along the road and in the small gravel lot, which is limited to the event crew and "bunk-in" residents only (green on the drawing).
Please
do not park in the church camp lot (red)
OR by their gate OR along the narrow roadway East of the no-parking sign!! This camp's managers understandably don't like strangers on their property, or cars blocking their van. We had big complaints in the past, and we may simply lose the venue for good if we get more complaints. Also please
no pets
in the parked cars, ever, and
no sleeping in the cars
/ campers
overnight in any of these lots.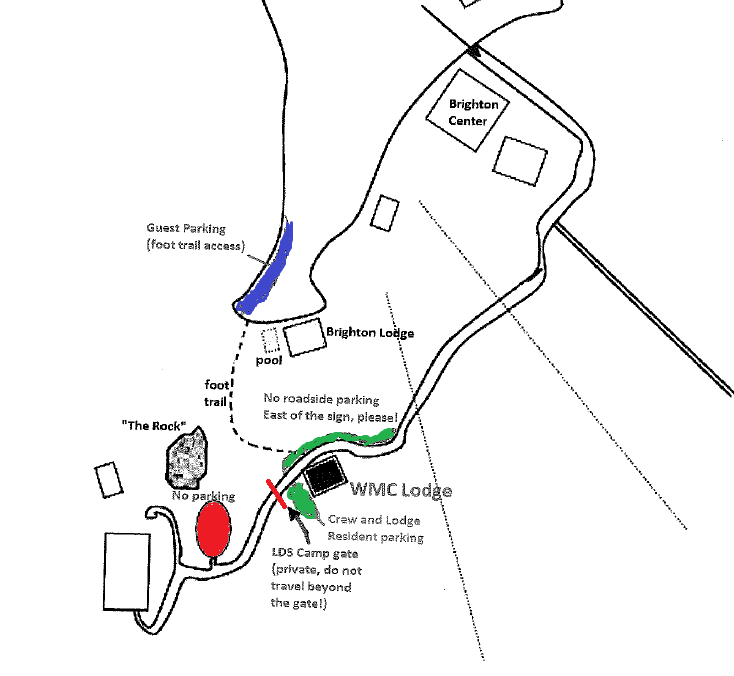 M
ore satellite lodging locations:
Th the retreat-goers have rented 3 ski chalets within walking distance from the venue, please
inquire with us
about availability of beds. Brighton Lodge also offers rooms (one-Queen private rooms, 2 Queen + sofa suits) and a jacuzzi. To book, call manager Monika Dietz, 801-532-4731 x3 , (855) 201-SNOW (7669), ext. 120, or send an email
mdietz@brightonresort.com
. A satellite image of the two lodges ->>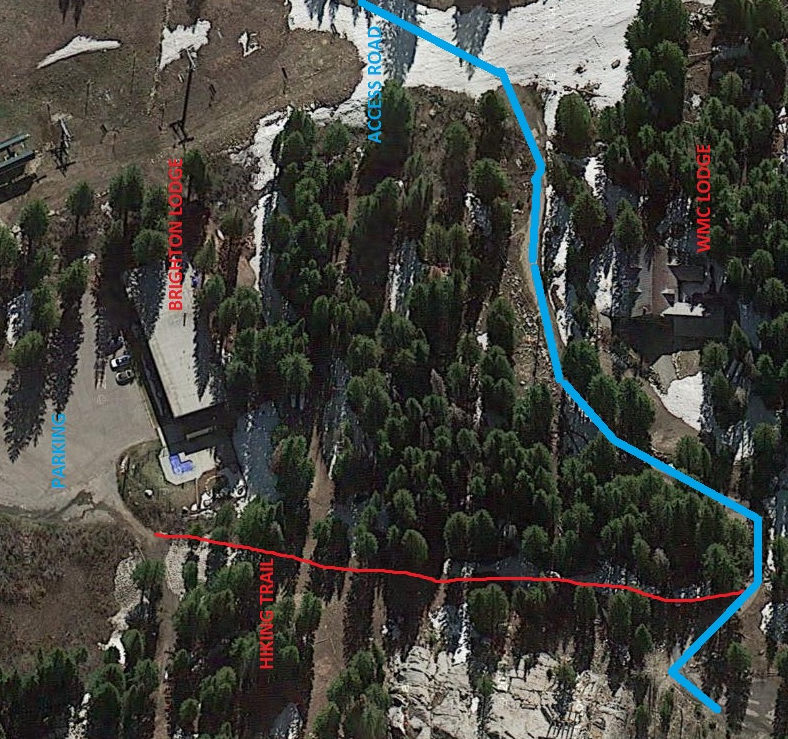 Staying with the hosts in the valley

:
inquire with us!
Send us email
or post on the event page on Facebook .
Camping:
The Spruces is the best area campground, 5 miles down the canyon. Distributed camping may be legal on public lands more than 500 ft from the road and away from the creeks and lakes. That means a ban on campers parked on the roadways and in the parking lots, too. The Lodge management used to take campers in stride, but this time we've been asked to make sure that nobody sleeps in the vehicles at night. It may be possible to legally park a camper in a driveway of one of the rental houses - please inquire ahead of time.
On-site meals:
10
meals are included in your pass, please see the Schedule. Vegetarian option should be available.
Off-venue food and drink options:
the only dependable walking-distance eatery is the little rustic (but expensive) Brighton Store and Cafe in the Northern part of Brighton Loop Road (across the road from Silver Lake Visitor Center). It offers breakfast and lunch, and closes at 3 pm. Millicent Chalet day lodge opened for summer dining in 2017, and became the first eatery open on weekend nights. It is pretty much an overpriced burger joint you'd expect from a ski resort catering to the youth. Keep in mind that in Utah, we can't officially provide the guests with alcohol, but BYOB is perfectly fine. Peculiarly, in Utah, alcoholic beverages stronger than 3.5% beer are only available in the specialized stores, the nearest of which is inconveniently located across a mountain pass 11 miles down a winding, partly unpaved road at 460 Swede Alley in the beautiful Park City. A larger, and more conveniently located, liquor store is 17 miles down the canyon, at 1863 East 7000 South, Salt Lake City. So if you need to stock up, you may prefer to do so while you're still down in the valley! (A small wine and liquor store, and a restaurant / pizzeria, are also operated by the nearby Solitude Ski Resort, but we don't yet know its summer hours). Further down canyon (3 miles away from Brighton), Silver Fork Lodge is a popular mountain restaurant with a famous scenic deck.
Flashlights
? The Moon will be in the last quarter, and won't be high in the sky until after midnight. Packing flashlights is highly recommended if you are going
anywhere
at night. We'll have a few headlamps for you to borrow, just in case.
Sunblock / sunglasses / bug spray?
Sun protection is a must on any local hikes, which are between 9,000 and 10,400 ft elevation. On the most strenuous of the hikes I have on the list, you might need a mosquito repellent spray, but the lodge itself and the nearby trails won't have any bugs.
Fishing?
Nearby lakes are popular with anglers, but one can't buy a license at Brighton (Utah fishing license is available from supermarkets and sporting goods stores down in the valley). Rental cabins in the area already come with fishing poles. Barbara F. intends to organize a fishing derby, probably in the evening hours, stay tuned for details.
Pets?
Keep in mind that the entire Big Cottonwood Canyon area is a watershed area,
no dogs allowed
. Not even in the parked cars!
Airport group pickup / Airport car rental:
Pickup from the airport or from light rail is quite possible, please inquire, we'll try to group the travellers together for a shared ride to cut costs. Keep in mind that car rental at SLC airport tends to be fairly inexpensive, as low as $16 a day at present, so renting a car even for a small group may be a great value.
Past events:
Here is a great video from the 2014 event -
https://vimeo.com/72624140
Mountain Milonga
from
Nico DeBarmore
on
Vimeo
.